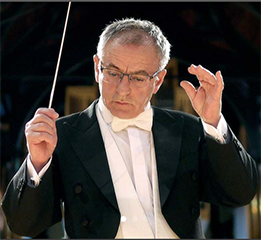 Our Music Director
We're thrilled to announce that Maestro Bujar Llapaj has joined the Ambleside Orchestra as our new conductor and director of music.
Maestro Llapaj is internationally renowned. Born and raised in Albania, he studied at the Academy of Arts in Tirana, Albania, and the Conservatoire National de Rueil-Malmaison in Paris.
Maestro Llapaj has won multiple awards and remains a prominent figure in the Balkan classical music scene. He has conducted concerts throughout Europe, and still travels abroad as a guest conductor. He immigrated to Canada in 2002, and has been principal conductor of the West Coast Symphony Orchestra since 2007.
Maestro Llapaj is known for his pursuit of excellence in both music and music education. As artistic director of the Albanian National Theater of Opera and Ballet, he showcased music by famous composers as well as world premières of works by upcoming Albanian composers.
He was the founding conductor and artistic director for the New Philharmonic Orchestra, a nonprofit group of Tirana's best musicians whose first concert memorialized the victims of 9/11. He also chaired the department of conducting and singing at the Academy of Arts in Tirana, where he developed new programs in conducting and pedagogy.
Maestro Llapaj's appointment ensures that the orchestra will continue to grow and develop as an important North Shore arts organization.